The Centre is now open!
Join us for our regular programming: Mindful Mondays, Wednesday noon and Sunday morning meditation.
The Kootenay Shambhala in Meditation Centre is part of Shambhala, a global community dedicated to building a wise, kind and strong society based on recognizing the innate goodness of all.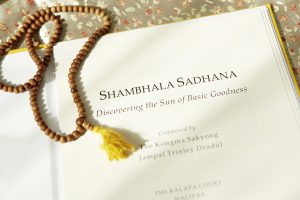 May 27th—December 18th
The Shambhala Sadhana is a simple and potent practice to deepen our connection to basic goodness. It reveals how we can find our tender, perceptive and powerful heart under the usual cover of doubt and panic.
Continue »
Learn to meditate, join a discussion, and meet people at our popular Monday Night Open House, 7–8:30pm. It's open to all, free, and great for newcomers. Bring your friends! Learn more »
Monday Night Open House | 7–9pm
Wednesday Noon Meditation | 12–1pm
Sunday Morning Meditation | 9am–12pm
by Lynn Dragone Today I find myself. Ah, Here I am!….as I break through the momentum of my day. I find myself as I am looking out the window toward Elephant mountain. I see the wind moving the branches of the tree outside. I hear a crow call out, then a siren in the distance, … Continue →

I found this to be a deeply insightful 'unpacking' of the I ching/Yijing as well as a means to understand the profound teachings of Shambhala. It discusses Basic Goodness, Co Emergence, Drala, Auspicious Coincidence, Authentic Presence and what it means to Join Heaven and Earth. It also explains with great clarity the view on 'divination' … Continue →

Yesterday I was filling up the single glass bowl on my meditation table with clean clear water and as I did so I felt the fresh moment 'as it is'. This simple action delighted me, maybe because of the sheer simplicity of the action itself. We get so complicated in so many ways of … Continue →