Basic Buddhadharma: Things You Need to Know About the Path
With Shastri Russell Rodgers
June 19 - July 31, 2019
Most of the readings for this class will be from Cutting Through Spiritual Materialism by Chogyam Trungpa. We have a couple of copies in our bookstore, and some in the member's library, or you can order it from Amazon. There will also be readings photocopied from other sources. Since this is material that provides a strong foundation, it would be appropriate to study it and take notes. We will also do some meditative investigations as part of the class.
Usually, we don't try to run classes during the summer because people travel and otherwise take advantage of the season's beauty. It's best if you can do the whole series, but each class will stand on its own and we'll record all the sessions.
June 19: "Walking the Buddhist Path in a Pure Way". This class explores the egoless foundation of the Buddhist path. Readings: Read the "Introduction" in CTSM and the chapters up to and including "Self-Deception"
June 26: "The Four Noble Truths" comprised the Buddha's first discourse. They sketch out, in simple logic, the basis for all Buddhist view and practice. Reading: the chapter in CTSM on "The Four Noble Truths"
July 3: "The Five Skandhas". Why do we think we have a self? On the one hand it seems completely obvious, but on the other, it doesn't survive close inspection and it creates a high-maintenance life style. When we contemplate egolessness, we understand why we have anxiety and stress. Instead of feeling afflicted, we become open to the messages that anxiety and stress are trying to convey. Readings: "The Development of Ego" from CTSM, and the photocopied reading on "The Sravaka Approach" from Progressive Stages of Meditation on Emptiness.
July 10: "The Emotions" In this class, we'll explore how our life-giving energies can manifest either as enlightened states or be twisted into entrapment. Read the chapter on "Tantra" and the one on "The Six Realms".
July 17: "Eight States of Consciousness" Understanding our minds from a meditator's point of view. Reading: a photocopied handout from the Profound Treasury.
July 24: "Emptiness and Naked Reality". Within emptiness the world is able to speak for itself, and we are able to see its true, magical nature. This class has several readings: "Shunyata" in CTSM; a photocopied handout on the "Cittamatra Approach" from Progressive Stages of Meditation on Emptiness; the text of the Heart Sutra, and a handout on that chant from Russ's Chant Commentary.
July 31: "Stepping Out Into the World": Read the Chapters on "The Bodhisattva Path', and "Prajna and Compassion" from CTSM. Read or review the chapter on "Tantra".
Teacher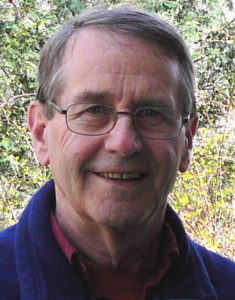 Shastri Russell Rodgers
Shastri Russell Rodgers became a student of Chögyam Trungpa in 1975. Shortly after that, he moved to the Kootenay region of British Columbia, where he has resided since. During that time he has occupied many administrative and teaching positions. He helped to create the Shambhala Centre's retreat land, and had a large part in buying and renovating the new building for the Nelson Shambhala Centre. Before he retired, he managed a drop-in centre for people with mental illnesses. He has a wife and three grown children, two of whom live with their families in Asia. He was appointed Shastri (senior teacher)…
Learn more about Shastri Russell Rodgers