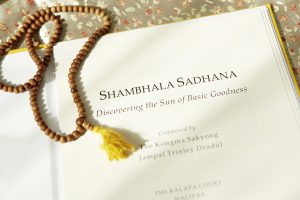 Shambhala Sadhana - Monthly - In Person -August 22nd CANCELLED
Online

A Sadhana is a profound form of practice which includes meditation, visualization, recitation of verses and mantras. Central to Tibetan Buddhism, a Sadhana is usually only performed by practitioners who have received the appropriate transmission, however the Shambhala Sadhana is open to Shambhala meditators, friends and family members.
The Shambhala Sadhana is a simple and potent practice to deepen our connection to basic goodness. It reveals how we can find our tender, perceptive and powerful heart under the usual cover of doubt and panic.
the Shambhala Sadhana is profound, and reconnects us to the basic goodness in ourselves, in our community, and in the greater society
it brings all levels of practitioners together
new students have an opportunity to meet all community members
it strengthens and binds together our local Shambhala community
it expands the vastness of basic goodness to family and friends
it is a natural way to develop Shambhala culture through meditation, food, and conversation
All Shambhala members as well as their family and friends are invited to come together on the new moon to practice.
Connect on Zoom at :
https://us02web.zoom.us/j/82620733290?pwd=akVBa3dmSjJudDNvcUJMMUl2UzJpUT09